The world wouldn't be the same without their innovations & inventions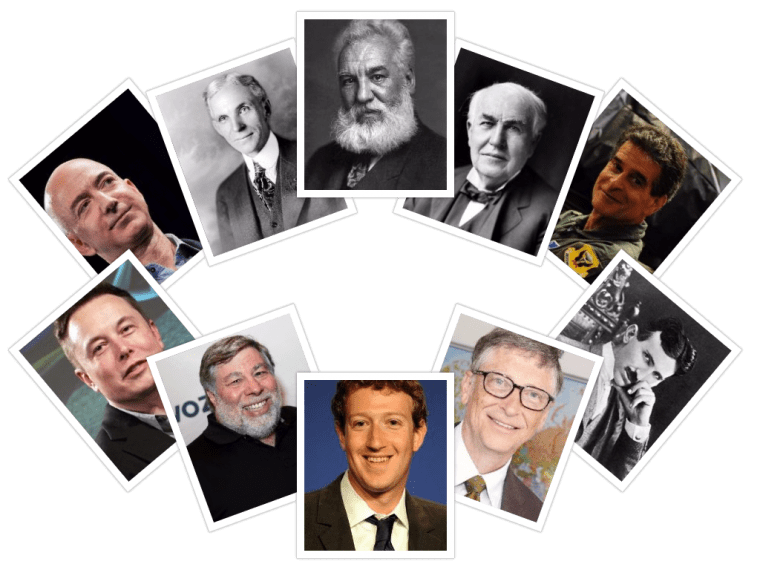 Every human being is a tinkerer. There's a creative side in all of us: Politicians, teachers, lawyers, businessmen, bankers, scientists, engineers, writers and so on. But how many of us actually tinker, create and breathe life into the things we imagine? We might have great ideas, but we don't put in the effort to build or make or see the project to fruition.
Carol S. Dweck, professor of psychology at Stanford University, is apt in saying:
"No matter what your ability is, effort is what ignites that ability and turns it into accomplishment."
On the other hand, we have people who fired up their imagination and turned their groundbreaking ideas into extraordinary products. They have revolutionized the world with their creative spirit and brought about the maker movement.
We bring you stories of 10 such ordinary tinkerers or innovators in the world who gave us extraordinary products with nothing more than their effort and creativity. These innovators have given us remarkable technologies and tools that have not only changed our lives, but have also helped scale our businesses and created economic disruption.
"I never did anything by accident, nor did any of my inventions come by accident; they came by work."
Considered to be one of the greatest inventors of all time, Thomas Edison is credited with thousands of patents to his name, including the electric light bulb, the phonograph, the microphone, the motion picture camera and the alkaline batteries.
Nicknamed "The Wizard of Menlo Park", Edison developed an insatiable quest for knowledge at an early age of 11. He was easily distracted and hyperactive, which made him a difficult student at school. He was soon expelled from school. But his mother homeschooled him and he never failed to attribute his success to his mother. " My mother was the making of me…" he said.
Edison started devouring articles on N-number of subjects as he spent almost all his free time in reading and experimenting before he got his first breakthrough. He was never distracted by outdoor sounds and could concentrate more on his work because an early bout of scarlet fever and ear infections left him with hearing difficulties in both ears.
Later, his career as an inventor stretched from a tinkerer to the head of a major corporation, (Edison General Electric, which we know as GE today). His career, essentially a rag-to-riches story, is about the 19th century innovation as a business. The rest they say is history, as he set the stage for the modern electric world.
"The day will come when the man at the telephone will be able to see the distant person to whom he is speaking."
Known for his invention of the telephone, Alexander Graham Bell started off his career as a teacher for the deaf. He was a tinkerer by heart, so while teaching he began his research on hearing and speech and how he could help the deaf communicate. He researched extensively about ways to transmit telegraph messages simultaneously over a single-wire, which eventually led to his invention of the telephone.
Bell dr ew inspiration for his work from his wife and mother, who were both hearing impaired. He is also attributed to other groundbreaking work in optical telecommunications, aeronautics and hydrofoils. He might not be the founder of the National Geographic magazine, but he had a great impact on the magazine when he served as its second president.
As a tinkerer, Bell sometimes worked through the night and went to bed only when the sun came up. Sometimes he even loved to drive so hard that he would end up getting severe migraines. But he loved to relax by taking a dip in the lake by his summer home and puffing on a lit cigar.
Bell continued with his work with the deaf till his last years. He also established the American Association to Promote Teaching of Speech to the Deaf. In 1922 when Bell died at his home in Canada, the entire telecom department paid tribute to the genius by shutting down the system for one minute.
"If you only knew the magnificence of the 3, 6 and 9, then you would have the key to the universe"
Born in modern-day Croatia, NiKola Tesla portrayed his streak of geniusness from a very early age. His ability to memorize the entire book with algorithm tables and his skill to pick up languages at the drop of a hat amused and puzzled everyone around him. He functioned normally even when he went on for days without a wink of sleep.
Tesla enrolled for electrical engineering when he was 19 years old and soon established himself as a star performer. He would often get into a debate with his professors over perceived design flaws in the direct-current (DC) motors that were being taught in the class. During those days, he became so obsessed with electromagnetic fields and a hypothetical motor powered by alternate-current, that he lost all focus on his schoolwork and suffered a nervous breakdown.
Despite the odds, this genius of a man came up with the induction motor harnessing electromagnetic power to alternate current. Tesla is also credited with over 700 patents and innumerable applications ranging from the Tesla coil to the radar, radio, remote control, smart bombs, basics for X-rays among many others.
However, his AC motors and power systems were said to be one of the most valuable inventions after the telephone. We are the greatest beneficiaries of Tesla's AC electrical system as his invention had made an impact on how we use electricity today. Tesla's dream of a global wireless-transmission tower and his lack of a business mind proved to be his doom. He was bankrupt and spent his last days in a hotel room with pigeons and solving scientific problems and mathematical equations in his head.
"A market is never saturated with a good product, but it is very quickly saturated with a bad one."
Ford might not be the inventor of the automobile, but he revolutionized automobile into an innovation and laid the foundation of an effective transportation for middle class Americans. With his innovation, Ford turned around the landscape of the 20th century that continues to impact our lives even today.
Born to a farmer, Ford refused to follow in his father's footsteps and started tinkering with watches instead. He used watches as his books to learn the fundamentals of machine design. He worked in machine shops and tinkered in his free time. He even apprenticed at a car company in Detroit before he joined as a full-time engineer at the Edison Illuminating Company. In 1896, his efforts paid off when he completed "Quadricycle", a gasoline-powered horseless carriage or automobile.
To improve on his prototype and to keep building other vehicles, Ford sold the Quadricycle. For seven years he continued with his work, with the backing from several investors. Finally, his hard work paid off and the Detroit Automobile Company was born. However, he quit the firm because of some differences with his partners, and a year later, he founded the Ford Motor Company.
Henry Ford's belief that technology had the ability to harness new ideas that could eventually improve people's lives, further standardized American life. The automobile industry owes the creation of the assembly line manufacturing to Ford. His creation revolutionized the concept of mass production of automobiles worldwide. His commitment to bring an efficient, dependable and affordable automobile for everyone, has made the Ford Motor Company to where it stands today.
Ford's sales team would often come up to him asking for variants of the Model T. He wanted to stop this as his plans were only to sell just one variant of Model T. So, he introduced this popular policy, "you can have any color you like as long as it is black". It worked out really well because in the first year of production, they could sell about 6,000 cars. The following year, the workers produced 35,000 cars, tripling productivity and making car ownership affordable to the working class.
"My primary phone is the iPhone. I love the beauty of it. But I wish it did all the things my Android does, I really do."
A pioneer of the personal computing revolution of the 1970s and 1980s, Steve Wozniak is also popularly known as "The Woz". Though he co-founded Apple Inc along with Steve Jobs, his interest lay in engineering. He never had any fascination to run his own business, nor did he want to tell people what to do. "My goal wasn't to make a ton of money. It was to build good computers. I only started the company when I realized I could be an engineer forever."
Wozniak was always interested in electronics as a child and made homemade devices and kits from scratch, including games, calculator, a voltmeter among several other things. A tinkerer from a very small age, Wozniak always dreamt about building his own computer. However, circumstances were such that he couldn't afford to build one because of the expenses. All he could do was design them on paper and compete with himself to get better.
In his mid-twenties, when he got into Hewlett-Packard (HP), where he designed calculators, he wanted to stay on as he wanted to be an engineer for life. It was during his HP days that he was introduced to Steve Jobs and the course of his life changed forever.
Their love for technology and playing pranks drew them close and Wozniak soon developed Apple I, while Jobs spent his time marketing it. Soon in 1977, Wozniak built Apple II and quit his job and formed Apple Computer Inc. By early 80s, Apple was the best-selling computer in the world. "Steve Jobs didn't really set the direction of my Apple I and Apple II designs but he did the more important part of turning them into a product that would change the world."
Jobs and Wozniak were interested in the devices called blue boxes, which Wozniak succeeded in building. The device enabled them to imitate tones used for long-distance calls. Once the device was built, Jobs instantly wanted to sell them. So, they started giving demos of the product in order to entice people to buy them. In the process, Wozniak made calls to weird places in the world speaking about their product. He even ended up calling the Pope on one such occasion. Only when he burst out laughing did the Vatican realize that it was a prank call.
"I don't work on a project unless I believe that it will dramatically improve life for a bunch of people."
Dean Kamen, one of the most creative tinkerers of our time, came up with his first invention when he was just a five-year-old boy. It was a device that helped him to make his bed every morning. There was no looking back since then, and by the time he was in high school, he was making money from his inventions built from the basement of his house. Once he graduated from high school, he was making more money as an inventor than his parents made in a year.
He dropped out of polytechnic to form his first company, AutoSyringe, where he sold his medical invention, a drug infusion pump. Kamen clinched a deal and became a multimillionaire when he eventually sold AutoSyringe. This revenue helped him to form DEKA Research and Development and later his non-profit organization, FIRST (meant to expose high schools to the marvels of science and technology). FIRST holds an annual robotic competition for 400,000 high schoolchildren.
Kamen's story projects how innovative ideas can turn into reality if you focus and put all your efforts into them. After over 40 years of inventing, he has over 440 patents to his name and saved thousands of lives through his innovations. However, he is best known for his invention, Segway, a two-wheeled, self-balancing scooter and iBot, a stair-climbing wheelchair.
Today Kamen might be a hero and a celebrity since he unveiled Segway, but this inventor's passion for science has fostered the need to ignite that spark in young people. This 66-year-old is showing no signs of slowing down as he considers his work to be his life.
"You know, it's only work if you'd rather be doing something else"
"Whether it's Google or Apple or free software, we've got some fantastic competitors and it keeps us on our toes."
Bill Gates is known not only for founding Microsoft but also for his philanthropic work. Billed as one of the richest men in the world, Gates built the world's largest software business along with his partner Paul Allen just through his technological genius and a dynamic business strategy. After he stepped down from Microsoft, he has been involved full time on charitable work at his foundation, The Bill and Melinda Gates Foundation.
Gates was an avid reader since he was a child. In fact, he read so much so that his parents forbade him to get his books to the dinner table. He did well in his school, but he got bored with things very easily and would withdraw into his shell. He excelled in math and science, but also did very well in English and drama. While at school, when he was introduced to the computer, he got hooked to it and spent most of his free time working on the terminal. The school administrators were aware of his programming skills and asked him to write the school's computer program to schedule students in classes.
At 17, Gates along with his partner, Paul Allen, came up with Traf-O-Data that made traffic counters based on the Intel 8008. When he finally graduated from school, his scores were 1590 out of 1600 at the Scholastic Aptitude Tests (SAT). He enrolled at Harvard University, but spent most of his time in the computer lab than in his class. Within two years he dropped out to pursue his company, Microsoft, along with his partner Allen. At 23, he was heading the company.
In the late 70s and early 80s Microsoft signed a deal with IBM to create an operating system. Though Microsoft did not have an operating system when the contract was finalized, they purchased the full rights for QDOS from Seattle Computer Products (SCP) and got it licensed. QDOS was similar to the operating system CP/M. Later, Microsoft developed the entire operating system for IBM PC after it acquired from SCP. Since then there was no looking back for Microsoft.
"Amazon.com strives to be the e-commerce destination where consumers can find and discover anything they want to buy online."
Jeff Bezos, best known as the founder, chairman and CEO of Amazon, showed interest in how things work at a very young age. He turned his parents' garage into his lab and tinkered and fiddled with electrical devices in the house. As a teen he developed an interest for computers. In fact, during his high school days, Bezos started his first business, the Dream Institute, which was an educational summer camp for fourth to sixth graders.
Bezos followed his love for computers and pursued the subject at Princeton University from where he got his degree in computer science and electrical engineering. Post-graduation, he worked at several firms on Wall Street and was promoted as the senior vice-president (VP) at the investment firm, D.E.Shaw, thus getting the title of the youngest VP.
Four years later in 1994, Bezos quit D.E.Shaw to start Amazon, where he initially sold books online. He started the company out of a garage and for every sale Amazon made, a bell would go off indicating the increase in business.
Bezos is a serial innovator, as he changed the face of e-commerce with Amazon. With his creativity he was also able to change the outlook of Washington Post (WP), which he bought for $250 million in 2013. In less than three years, he had managed to increase the readership of WP and make its content more suitable for the digital world. He has also founded the Amazon Studios. Today after 23 years, Amazon is one of the greatest success stories. And Bezos is now worth $100 billion, securing the title of the world's richest man, beating Bill Gates.
"My biggest mistake is probably weighing too much on someone's talent and not someone's personality. I think it matters whether someone has a good heart."
Elon Musk, founder and CEO of Tesla, SpaceX and Neuralink among others, is transforming transportation not only on earth but also in space. He was in the news lately as he has plans to launch Tesla Roadster to Mars on Falcon Heavy rocket.
This inventor, engineer, investor and business magnate was an avid reader and tinkerer since he was a child. Musk's keen interest in computers made him self-teach computer programming and eventually develop a BASIC-based video game, called Blaster. He even managed to sell it to a magazine for $500, all at the age of 12. Musk enrolled for his Ph.D in energy physics at Stanford but dropped out after two days to launch Zip2 Corporation along with his brother. When his first company was acquired by Compaq, he received $22 million for his 7 percent share.
He founded his second company, X-Com, which later went on to become PayPal. PayPal was acquired by e-bay and Musk received $165 million from the sale. Musk soon came up with his third company, SpaceX, where he wanted to build spacecraft for commercial space travel. SpaceX was soon recognized and it got its contract from NASA to handle cargo transport for the International Space Station.
His other venture, Tesla Motors, dedicated exclusively in producing affordable, mass-market electric cars, was soon successful in unveiling a sports car that could accelerate from 0 to 60 mph in 3.7 seconds while travelling 250 miles. Musk has also visualized and proposed a high-speed transportation system, hyperloop. He also founded The Boring Company in 2016.
"Helping a billion people connect is amazing, humbling and by far the thing I am most proud of in my life."
Mark Zuckerberg, the man and face behind Facebook, developed an interest in computers from a very young age. His interest propelled his parents to hire a private tutor, who would drop by his house once a week. His tutor later told reporters that it was difficult to stay ahead of the prodigy.
At 12, Zukerberg developed a messaging program, Zucknet, using Atari BASIC. It came in handy for his dentist father, who used it in his dental office to inform him of new patients without the receptionist yelling across the room. The entire family used Zucknet to communicate inside the house. He also created computer games with his friends just for fun.
Zuckerberg, who also excelled in fencing and headed the school team in the sport, was always fascinated by computers and he was always seen working on new programs. While in high school he developed an early version of Pandora, the music software. Companies like AOL and Microsoft showed interest in hiring Zuckerberg and buying the software, but he declined the offers.
While he was at Harvard, he built a program, CourseMatch that helped his fellow students choose their classes based on the course selection of other users. As he earned the reputation of the go-to software developer on the campus, twin brothers Cameron Winklevoss and Tyler Winklevoss along with fellow student Divya Narendra approached him to build a social networking site. Thus, Facebook was born out of the dorm room and the rest they say is history.