When we received Patricia's mail asking us whether we could help her teenage son learn electronics in the easiest way possible, we didn't expect a blog to stem from this query. What followed her query, were N number of similar questions in our inbox that came from parents, homeschool moms, educators and learners.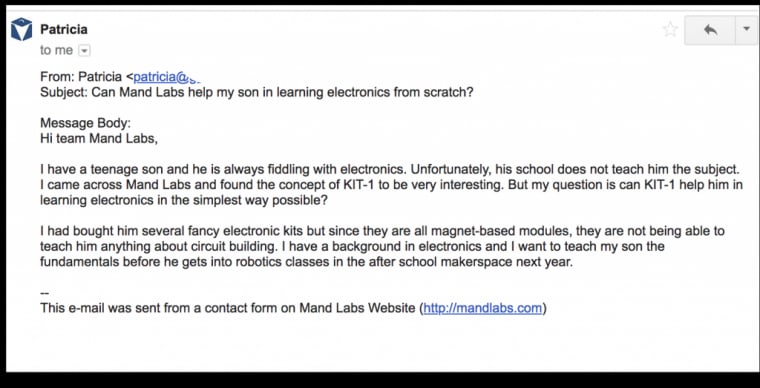 The email queries showed us what the grim reality was. Despite the ample resources available online, people are still grappling with finding the right content. It is really cumbersome to browse through 100s of pages on Google. It's all scattered, random and non-curated. Inconsistent content can leave anyone confused and intimidated.
People are robbed of the option of finding everything in one place as they have to order electronic components or parts from multiple channels. Gone are the days when we had the Radio Shack and we could rely on it for all our components and spares. Today we need to source them from multiple channels and pay huge shipping costs; compare the products as well as the pricing before we finally buy them, thus losing our precious time and energy in the process.
This is also the story of how the seeds of Mand Labs were sown. A few years ago, our founder, Gurpawan Mand, had ordered a fingerprint sensor from a popular website. When the shipment arrived, it had no documentation or manual to start with. The sensor that arrived was not working. After trying to figure out on his own, he contacted the customer support. That too failed him, as there was absolutely no response from the team. Frustrated with the service and also the product, he made up his mind to come up with a product that would have all the content, components and tools in one place, besides being supported with top-of-the-class technical support.
So, this blog is dedicated to Patricia and all the other moms and learners who took the time to mail us and find out how Mand Labs KIT-1 helped them in learning electronics in the most simplest and easiest of ways. This is also for all those who are looking out to glean information and tap the wisdom from the resources. Let's walk you through: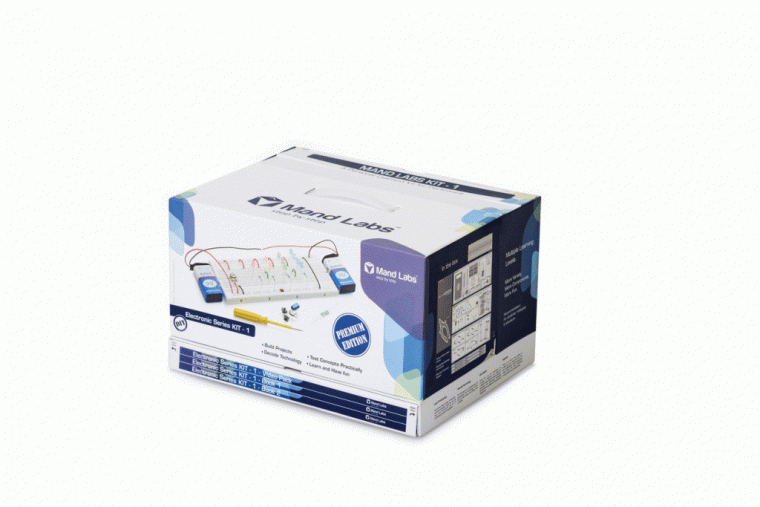 There are ample resources online, but looking for what you exactly want can not only be tedious but also time consuming. Let's be honest, we all love the luxury of having everything in one place rather than having to arrange for things bit by bit. Keeping that in mind, at Mand Labs, we came up with KIT-1, where you will not need to look outside the box, literally!
The ergonomically-designed workstation, which fetched Mand Labs the i-Design Award, 2015, comes bundled with all requisite hardware and electronic components required to build an array of 60+ projects. To be precise, it comes with 165 components and tools, a portable breadboard carry case that ensures you can carry your creations along with the compact box, enabling you to work in your own time and convenience. How perfect is that?
So, this do-it-yourself (DIY) kit for electrical science and electronics is not only your "go-to kit" when it comes to learning electronics in the easiest way possible, but also allows children to tinker with real-world electronic components and tools to build real-world projects from the comfort of anywhere you choose, without even bothering about the spares, components and resources.
A book is a device to ignite the imagination ― Alan Bennett
Books are probably the best resources that can help you in understanding and learning electronics from scratch. And our book, Electronic Series KIT-1, which is divided into two parts, is just perfect for you if you want to build circuits and learn electronics at the same time.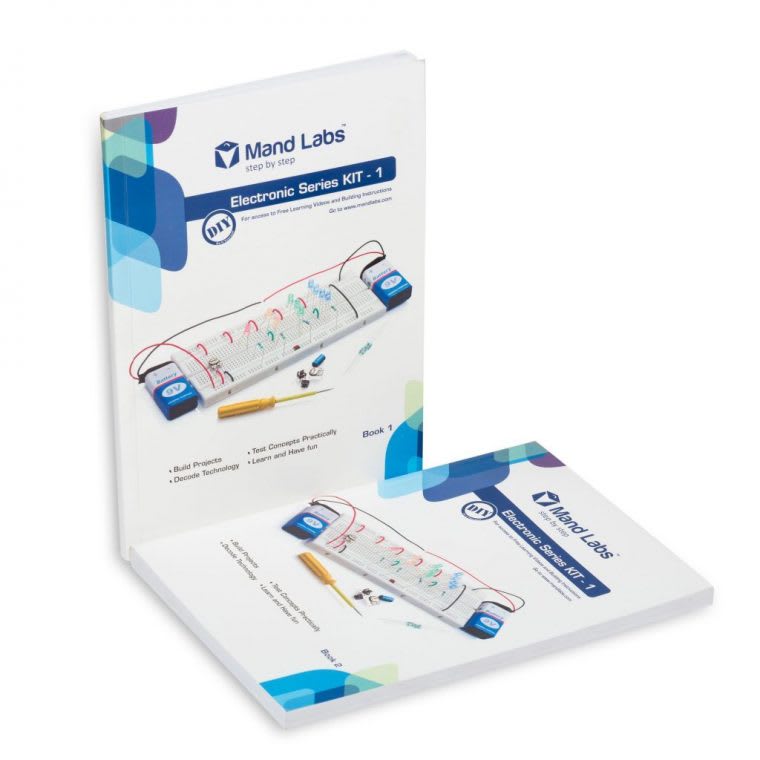 The book is an attempt to break the conventional paradigm and make electronics fun to learn, simple to understand and easy to relate to. It also endeavors to debunk the concept that technology is technical and electronics is difficult to learn. It is an amalgamation of both theoretical and practical learning.
With the content mapped to the standard physics curriculum, the book's purpose is to help students develop a structured approach and help them in their problem solving skills, and shape their thought processes to look at things from a different perspective.
To help the reader understand better the book has schematics, which are explained and implemented step-by-step . It also has observations and reasoning behind the projects, including several activities like taking the multimeter and checking its readings or modifying the projects. The reasoning and inference of each project keep the lessons alive without letting you get bored. It also has Q-boxes and Do You Knows that contain a plethora of questions and interesting facts.
Book 1 covers the basic concepts of electricity, electrical and electronics in 10 chapters. It gives the reader an in-depth and comprehensive working knowledge of charge, voltage, current, resistors, Ohm's law, variable resistors, including potentiometer, preset and LDR, series and parallel combinations, LEDs, buzzers, switches and capacitors. It also enables readers to build and analyze projects step-by-step.
Book 2 covers more advanced concepts of electronics in 8 different chapters. Each chapter gives the reader an in-depth and comprehensive working knowledge of topics covering relays, diodes, semiconductors, logic gates, zener diodes, DC motors, transistors, and signals.
Electronic Series KIT-1 gives an extensive knowledge for those who want to explore the 'whys' and 'hows' and want a clearer and deeper understanding of the fundamentals of electricity and dive deep into the world of electronics.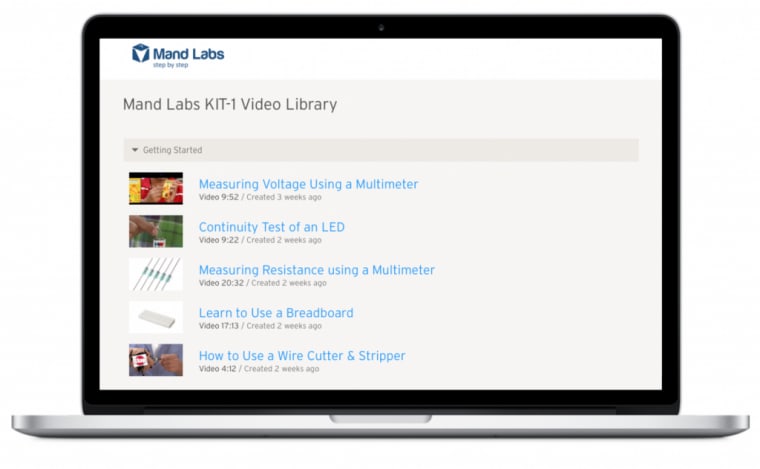 If you are a beginner, watching YouTube tutorials and trying to extract as much information and knowledge as you can, it can be pretty exhausting. But what if you get all the resources you want from one place? At Mand Labs, we understand this need and that is why we have created all the additional resources that will come in handy when you are experimenting with all your projects. Well, we all love perks, don't we?
To help you get started and further strengthen your skills repertoire, we have compiled all our content in a USB flash drive loaded with digital curriculum, including your lessons in high definition videos and step-by-step PDF guides that will empower you to self-learn at your own pace. The content in the USB flash drive, will help you to get started quickly and reduce your download time without depending on the internet connectivity.
Nothing can give you a better clarity and understanding than the interactive videos, replete with lectures, demonstrations and live assembly of projects. The videos help understand the concepts in a fun and interactive way by using animations, project modifications and discussing questions and concepts. It also helps the person reason behind the principle and test it.
&nbsp
But if you are someone who wants to get on to building projects instantly without much ado, you have our troubleshooting instructions or as we call it the step-by-step visual PDFs handy. The guide that is complete with circuit diagrams will help you assemble any circuit on the breadboard using the instructions in less than 30 minutes.
Even if you are a novice in electronics and have never tried your hand in building circuits, you can build your projects with our simple and easy-to-follow instructions. Did you know that our instructions have been tested on 15,000 users in live hands-on workshops?
And after all these resources, if you need any help, our dedicated technical support is just an email away. You can send pictures of your projects and get advice from our engineers.
Up until now if you have been ordering spares online or rushing to get your dose of tutorials from the YouTube videos, just remember that KIT-1 can basically help you save your time, effort and money. Whether you are a parent looking for a kit for your child to help him/her learn electronics from scratch; an educator about to start a robotics class in your school; or a homeschooler looking to teach physics and electronics, then KIT-1 is the right choice for you.
And if you want to add a cool functionality to your projects, KIT-1 is upgradeable to advanced modules that covers integrated circuits, sensors and programming. So, go on and open up a whole new world of imagination and building for you!